Former Ballroom Dancer Reverses Diabetes while Shedding 45 Pounds with Diet-to-Go
by Caitlin H,
Oct 3, 2022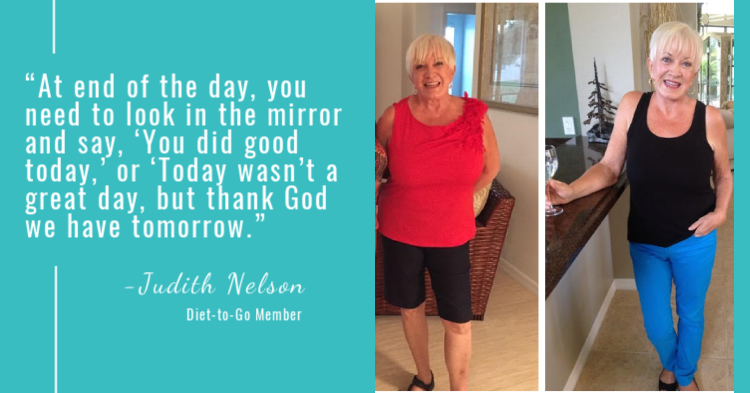 Name: Judith Nelson

Age: 77

Occupation: Retired from research lab, corporate aviation

Meal Plan: Balance-D

Favorite Meal: Basil Chicken

Start Date: July 2020

Starting weight: 194

Height: 5'2"

Pounds Lost: 45

Activity Level: Water aerobics, swimming

When I get a craving, my go-to trick is: A handful of almonds

 
---

For 77-year-old Florida resident Judith Nelson, weight loss came secondary to a deep desire to regain control of her health and expand her lifespan.
"Healthy living is what's most important to me," Judith said. "Right now longevity and not being a burden to my children is my primary goal, and that comes from being healthy."
Judith's desire to not burden anyone reflects her general approach to life, too. Judith, who retired from working in a research lab and corporate aviation, volunteers for her neighborhood as the liaison between the 70-home community and the landscaping company. She works to ensure the $200,000 budget for landscaping brings beauty and joy to all the residents. And she also makes it a daily goal to make a difference in others' lives.
"I feel like every day at end of the day, if I look in the mirror and haven't helped someone or influenced them to be better or gotten a smile out of them, I haven't had a good day," she said.
Judith was also a former competitive ballroom dancer, but back issues and degenerative disc disease limited her mobility to swimming only over the years, causing her to gain weight.

She decided it was time to make a change in July 2020 at the height of the COVID-19 pandemic after finding out she was on the verge of having diabetes. Her A1C was 5.7 and she was taking two diabetes medications. A1C measures the percentage of the blood's hemoglobin proteins that are coated in sugar and determines diabetes risk.
Judith said she spent time researching different meal programs online before trying Diet-to-Go.
"When I found you guys, everything I read said it was the best tasting food you can get," she said. "I thought, 'Let me give it a go.' I knew, living alone, I wouldn't cook for myself anymore. I knew I wasn't eating well."
Judith said she purposely tried a meal she didn't think she'd like after her Balance-Diabetes meals arrived on her doorstep.
"My first Diet-to-Go meal was Orange Roughy Pomodoro," she said. "I thought, 'If I like this, it'll be okay.' And wow, I loved it. The fact you all can cook fish…it's just amazing. I literally licked the plate."
Judith was hooked, adding that the convenience of the food being delivered, the taste, the heat-and-eat aspect, the customer service, and the fact that she can go on a vacation hold and substitute meals with the click of a mouse using the myDiettogo online portal all played a role.
"Everyday at 11 a.m., I go to freezer and say, 'Do I want Thai? Do I want chicken? Southwestern?'" she said. "Then, I pull it out and put it on the counter and at 4 p.m., I stick it in microwave and eat it. I love the flavor. It's restaurant-quality food. It's so convenient, especially for a single person."
Judith has stuck with the program ever since. Today, her A1C is down to 5.1, and she no longer takes diabetes medications. Her glucose has dropped from 125 to 89, she went from taking three blood pressure medications to the lowest dose of just one, and she shed 45 pounds.
"That's all from eating Diet-to-Go food," she said. "It all comes down to healthy eating. Eighty percent of my success is what I put in my mouth. If I didn't get it straight with eating, I was never going to get it."
Judith also said the controlled portion sizes have helped her learn how much to eat.
"Living alone, having no one to cook for, eating and preparing good, nutritious food…it's challenging," she said. "Portion sizes at the store and restaurants aren't geared for people living alone."
Judith's success on the program was exemplified at a May 5 doctor visit.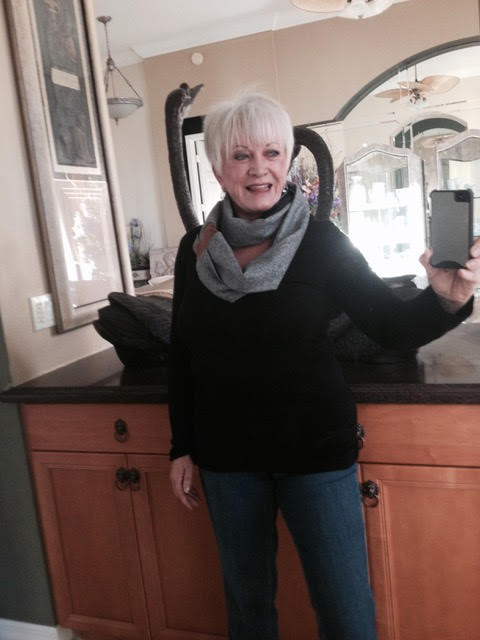 "When I met with my doctor and my A1-C was at 5.1, she stuck out her hand and said, 'Congratulations, you just cured your diabetes with your diet,' and she shook my hand," Judith said. "I mean, that was so much pride…relief, really, to know that I could be in control of myself and stay healthy through my eating."
She had a similar experience in July, when her doctor's nurse practitioner praised her for gaining control of her health, her skincare and her weight loss.
"I have so much gratitude that [Diet-to-Go] makes this happen for people like me," she said. "It shows up on my doorstep, and I eat it knowing the quality is good, the taste is great and the portion is controlled."
Judith added that although the weight loss was exciting, it came secondary to getting healthy.
"My goal was to eat better and be more healthy," she said. "I definitely reached that goal. The fact that my medications have changed so dramatically is evidence of that. It shows in my blood work."
"At end of the day, you need to look in the mirror and say, 'You did good today,' or 'Today wasn't a great day, but thank God we have tomorrow."
Do you have a Diet-to-Go success story to share? Email us at [email protected] with "Success Story" in the subject line to learn how you can get free meals in exchange for sharing your story!
————————————————————————————
Author: Caitlin H

Diet-to-Go Community Manager
Caitlin is the Diet-to-Go community manager and an avid runner. She is passionate about engaging with others online and maintaining a healthy, active lifestyle. She believes moderation is key, and people will have the most weight loss success if they engage in common-sense healthy eating and fitness.
Diet-to-Go Success Stories